2022 is the Right Time to Pick the Perfect Content-Format Strategy
It's crucial to choose a creative media and format that works for you if you want a winning B2B Linkedin content strategy.
---
3 years ago, when I started my LinkedIn journey, I did one thing that was sort of wrong.
I would post:
Videos
Carousels
Image posts
Text posts
I was starting out and wanted to try it all to see what performs best.
But one thing I failed to do back then (which I wish I did) is choose a format and stick with it. I never stuck with videos or carousels, with a colour and style that was distinct.
My Future Content Strategy
What I like is how he sticks to a format and colours, so he is always recognizable on my feed.
Also, look at Chris Walker, he has chosen videos as his way of showing up and delivering value.
What's your format?
How will you show up consistently so you are easily recognised in the feed?
One thing I'm doing with all my clients now is choosing a media format before we start.
Whether it's:
Newsletter
Video
Image Posts
I'm doing this because I now realise this is what it takes to build a recognisable brand on LinkedIn.
What format should I go with?
You probably want to ask me now, what's the best format for you?
My perspective on choosing the right format is individualized.
When I choose a format for a client, we as a team think about:
How will their message be best served?

What are the time and budget constraints?

What resources and inputs are needed to produce content regularly in this format?

What does their audience consume and engage with? Videos? Text posts? Articles and newsletters?

Client personality. What do they enjoy? Are they suited to being a video personality?

How complex and in depth is the content? Does it need a longer format like an article or infographic/illustrations to explain concepts? 👇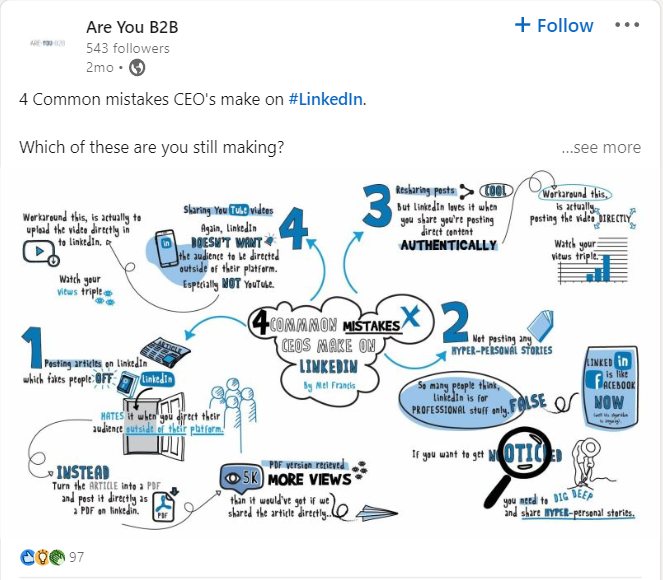 Some people are fantastic on video so that's their format. But, sometimes it's not easy to get technical information on video & going with a weekly newsletter is better.
If you are still unsure about which format is best for you, work with a brand specialist or creative agency and ask them to help you choose the right format, and avoid being all over the place on your content format (like I was).
My recommendation this week is:
Choose a creative media format
Choose your brand colours
Add your own unique style or design
Be consistent with all these
And watch yourself explode
That's my 2 cents this week on how I think you're going to win on social media.
Now go ahead, and choose a creative content format!